The 16 Best Things to do in Taipei, Taiwan | Important Travel Tips & Guide
May 2, 2020
Taiwan is one of the best places to visit for any tourist! I have already travelled there 3 times because I just love shopping and eating. Not only is it extremely affordable, but it's the land of bubble tea, great street food and has fantastic views outside of the city. This article is going to be filled with FUN things to do in Taipei, Taiwan (yes, no boring temples or museums!) purely for the adventure-seeker.

About Taipei, Taiwan
Taipei is the capital city of Taiwan. It is the largest city in the country, with over 2 million inhabitants, and is considered to be an economic, political, and cultural center. It is a modern metropolis, with the skyscraper, Taipei 101 that dominates it's city's skyline.

Is it safe to visit? Yes! Taiwan is relatively safe to visit, even for solo woman travellers. Violent crime rates are low but don't let your guard down as petty crimes such as pickpocketing do take place! What language do the locals speak? The official language spoken in Taiwan is Mandarin Chinese. Some locals can speak English, but even if they can't, it's a good thing that the people are really friendly there. So if you're lost, some pointing and gesturing could help you find your way.

How to use the Public Transport in Taipei?
The Metro in Taipei City
Save this map in your phone. It will bring you to many places that you'd want to visit in Taipei City.
Option 1: Purchase an EasyCard
The most convenient way to get around Taipei is to simply purchase an EasyCard (NT $100). This is a pre-credit loaded transportation card that you can use on the metro, train, buses and selected taxis. 7-11, Family Mart, and other convenience stores and supermarkets also accept the Easycard for payment. You can top up the card easily at any metro station, with a minimum of NT$100.

Travel tip: Keep the EasyCard for future travel use if you plan to return back to Taipei. If not, pass it on to somebody looking to travel there!

Option 2: Unlimited Travel Passes
There is a whole list of 1-5 days unlimited travels passes that you can get at Taipei Metro Information Counters – see the list here. This will only be worth it if you plan on taking train travel more than 5 to 6 times a day. Take note that a single trip will cost you between NT$20-65 based on the distance.



Is it worth it to purchase the Taipei Fun Pass?
The Taipei Fun Pass entitles tourists to unlimited metro/bus rides and access to 16 top Taipei attractions for 1,2 or 3 days ($51, $68, $80). Do I think its worth it? Honestly, I'll have to say no. At least not for the type of activities I want to do in Taiwan. However, if you plan to visit all 16 free attractions that the pass provides, then yes, it will be worth-while getting a Fun Pass. You can find the list of activities and their prices on the KLOOK website for you to compare and decide whether its worth it for you.

16 Best Things to do in Taipei for First-time Travellers
Below is an interactive map that indicates the list of things to do in Taipei by location (indicated by all the circular icons).

1. See the Views from Taipei 101
It is impossible to miss seeing the Taipei 101 building for anyone visiting Taipei. Taipei 101 was the tallest building in the world when it surpassed the Burj Khalifa between 2004 to 2010. Currently, it is at the 10th place of the world's tallest buildings. Still, it is notable for being the tallest green building in the world. It is worth while going up the elevator to the top of the building if its your first time visiting Taipei. Up there, you'll see panoramic views of the city and you can even choose to dine at one of their restaurants with a view.
You can get cheaper admission tickets if you prebook through KLOOK here. Tickets on KLOOK are priced at NT $540 as compared to NT $600 if you were to purchase it at the entrance of the ticket office. You can also reserve a lunch or afternoon tea set at Dingxian Restaurant to have a meal at the 89th floor, with a stunning view of Taipei.

2. Hike the Elephant Mountain Trail
Hiking the Elephant Mountain Trail will give you great views of Taipei 101 and the city! It is a relatively easy hike and till take you between 15 – 30 minutes to the top depending on your fitness level. There are also Taipei Bike, Metro and Walking Tours if you prefer to have a guide to bring you around the city.

How to get there: Alight at Xiangshan Station. Take exit 2 form the station and look out for signs to the hiking trail. (Alternatively, just follow where google maps brings you).


3. Visit Tamsui District (Fisherman's Wharf & Lover's Bridge)
Located in New Taipei City, in north Taiwan, Tamsui District is lined with shops, restaurants and vendors selling local specialties. Here you can try out many local street snacks to savour and enjoy it by the beautiful Tamsui river bank view. Tamsui district is the BEST place to eat seafood. Try the grilled/fried squid at one of the street stalls, I guarantee that you'll be coming back for more!
How to get there: Alight at Tamsui Station and walk over (350 meters) to Tamsui Golden Anchor. This is where you'll find the Tamsui River bank view and many local food stalls.
If you want to go to Fisherman's Wharf / Lover's Bridge, hop onto bus R26 (NT $15) at the nearest bus stop OR take a ferry from Tamsui Ferryboat Wharf (NT $60 one-way adult ticket).

4. Eat at the Modern Toilet Restaurant
The Modern Toilet Restaurant is a unique toilet-themed restaurant chain, with three branches in Taiwan. It's hilarious, but still a really enjoyable meal for us in Taiwan! So if you're shopping around Ximending area, pop by this restaurant for a meal, it's an experience you can't really find anywhere else in the world.

Address: 2f, No. 7號, Lane 50, Xining South Road, Wanhua District, Taipei City, Taiwan 108
Opening Hours: Daily, 11.30am – 9pm

5. Shop at Shilin Night Market & More!
Taiwan is all about their night markets! During one of my trips there, I visited one every night for 5 days straight. Shilin Night Market is one of the biggest night markets in Taipei. You can grab dinner and shop at the same time. The variety of food stalls will never disappoint you as well. Here is a list of things you MUST eat:
Hot Star Fried Chicken
Sweet Potato Balls
Oyster Omelette
Hot Plate Beef
Grilled Squid
Taro Balls
Fried Fish Balls…
The list goes on actually. My favourite is actually the grilled squid but everyone has a different tastebud! So buy whatever looks delicious for you. On other nights, you can try different night markets such as Raohe Night Market and Ningxia Night Market! Both offer a great shopping & eating experience, comparable to that of Shilin.

6. Shop at Ximending Shopping district
The most popular shopping district in Taipei, here you can find tons of fashion shops, restaurants and malls lined around the streets. Ximending is described commonly as the Shibuya or Harajuku of Taipei, in reference to the shopping district in Tokyo. You'd also

Shop recommendations:
For Clothing – ABC-Mart, JUICE, NET Clothing Store, Fufa Shoes
For Cosmetics – COSMED!

7. Day trip to Yehliu Geopark
Located on Taiwan's north coast near Keelung City, Yehliu Geopark is one of the top tourists day trip attractions from Taipei. As the rock layer of the nearby seashore contains limestone that is subjected to marine erosion, weathering and earth movements, Yehliu is full of seawater-eroded holes and numerous rocks in the shape of a mushroom, candle, and ginger. The scenery here is beautiful and you can trek along the ocean to find panoramic views of the East China Sea.



How to get to Yehliu from Taipei:
It's also easy to get to Yehliu Geopark from Taipei as there are multiple direct buses that run from the city (information from Yehliu Geopark Website):

Directions: Take bus No. 1815 (bound for Jinshan Youth Activity Center) of Kuo-Kuang Co. at KUO-KUANG BUS TAIPEI TERMINAL (near Taipei Main Station); alight at Yehliu stop. The bus comes every 20 minutes. (Weekdays: the first bus at 05:40am and the last bus at 11:00pm; Weekends: the first bus at 06:30am and the last bus at 11:00pm.)
Opening hours: Daily, 8am to 5pm
Entrance Fee: NT $80 for Adult ticket; NT $40 for students and children between 6-12; free for disabled & children under 6.

See my Exploring Yehliu Geopark article for more information.

Travel Tip: I was here in June previously and it was extremely hot. Bring an umbrella or at least a hat because there is no shade around the park. Water is also an essential.

8. Day Trip to Jiufen
Jiufen is a small village in the mountains located about 40-minutes drive Taipei. It has been made famous largely due to its resemblance to the village in the movie 'Spirited Away'. Walking through Jiufen Old Street, you'd find stalls selling a wide variety of local delicacies.
Things to do in Jiufen:
Taro Ball Soup is one of the most famous snacks in Jiufen. At the end of the street, visit the visit the famous A-Mei Tea House where you can get panoramic views of the village. You can also rent a Qipao (Cheongsam) to wear – a traditional Chinese outfit for a photoshoot. Lastly, you can head to Keelung Food Market which is a 15-30 minutes drive from Jiufen.
How to get to Jiufen from Taipei:
Option 1: By Public Transportation
Take the metro line to Zhongxiao Fuxing Station Exit 1, then take bus 1062 (see the timetable here) to Jiufen Old Street Station. The journey will take you about 1.5 hours and cost around NT $110.

Option 2: Jiufen Shuttle Bus Tour
You can book a shuttle bus tour to both Jiufen and Shifen (NT $445 per person). Its a great and convenient way to complete 2 places at once without having to worry about how to get there. OR a shuttle bus tour to Jiufen, Shifen AND Keelung Food Market (NT $610) if you prefer to visit all 3 places.

Option 3: Taxi
If you're travelling in a group of 3-4, taking a taxi may be a pretty good option as well. The journey will take between 30-40 minutes and cost about NT $1200.

9. Shifen Railway & Shifen Waterfall
Originally built to transport coal, the Shifen Old Street stop has now become one of the most popular on the Pingxi rail-line. Many tourists visit this area to light up sky lanterns (priced at NT $100-$150) and shop at the local stalls for food and souvenirs. Subsequently, visit Shifen Waterfall which is just a 10-minute walk from Shifen Railway.
How to get to Shifen from Taipei:
Option 1: Public Transportation
– From Taipei Main Train Station, take the train to Ruifang Station.
– From Ruifang Station, alight and take a train to Shifen Station.
The journey will take 1h 40minutes and cost about NT $130.

Option 2: Shifen Shuttle Tour
As mentioned earlier under Jiufen day tour, you can book the same shuttle tours (here and here) to visit Shifen as well.

Option 3: Taxi
More cost-efficient if you are travelling in a group of 3-4, The journey will take between 30-40 minutes and cost about NT $1000.

10. Shiding Thousand Islands Lake
The Thousand Islands Lake is one of the most beautiful places in Taiwan. The area was formed by the surrounding Feitsui Reservoir and Beishi River with crocodile-like islands forming in-between, giving it the illusion of a thousand islands. While you're there, remember to visit Bagua Tea Garden and Shiding Ancient Town as well.

Bagua Tea Plantation Address: 八卦茶園 (key this in google maps to find it)
Best Views of Shiding Thousand Islands Lake can be found at the Crocodile Island Viewing Platform, Tushitou Lookout and along Yongan Mt. trail.

How to get to Thousand Islands Lake from Taipei?
Option 1: Book a Tour online
The Thousand Islands Lake view points and tea plantations are quiet inaccessible to reach without a private vehicle. If you aren't confident of driving on your own, you can book a half day tour to reach the lake and visit a tea plantation (NT $1,380).

Option 2: Public Transportation OR Car Rental/Hire
Take GR 12 Bus from Xindian Station. However, this is a 3.5h journey by public bus. I'd recommend you to rent a car instead or book a private hire, it'll take you about 30-40 minutes to reach there instead.

11. Yangmingshan National Park
Located north of Beitou, Yangmingshan National Park is the only national park in Taiwan with volcanic geography and hot springs. Here you can find breathtaking views and fantastic scenery through the hilly landscape.

Places to visit: Calla Lily Garden (full bloom between March-May), Xiaoyoukeng Geological Area, Hot Spring Spas, Yangming Park, Hike Mt. Qixing (highest peak)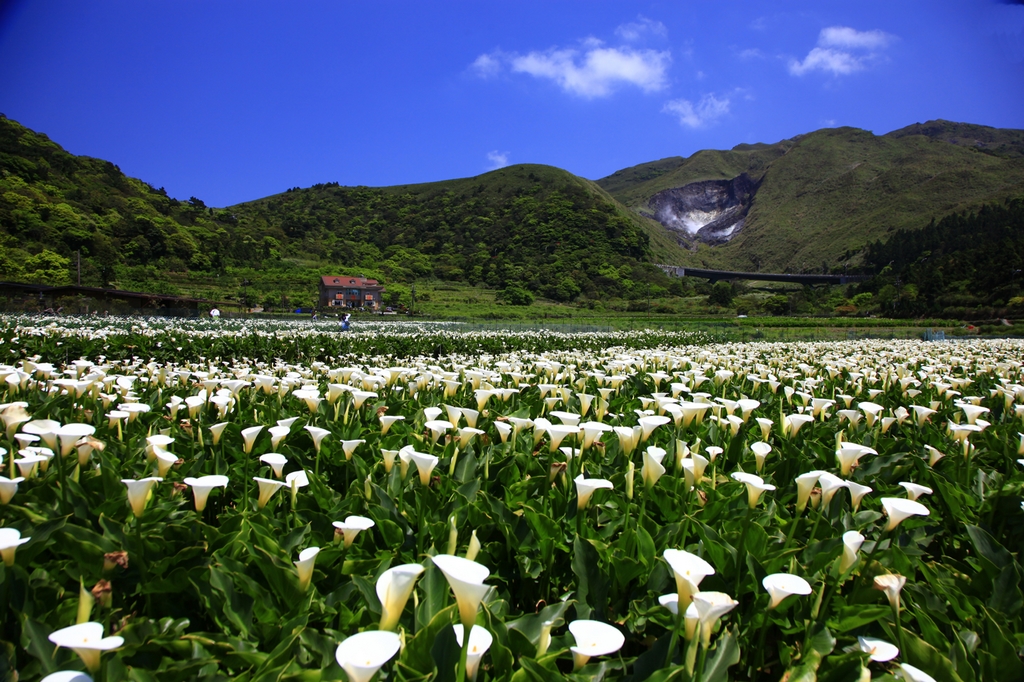 How to get to Yangmingshan National Park from Taipei:
Option 1: Shuttle Bus Booking
The most convenient method would be to book a shuttle bus tour online to ferry you for a round trip to the park. There is also a half-day Yangmingshan & Hot Springs Park Tour that you can consider booking as well. The tour starts at 1pm with shuttle bus pick up at designated locations.

Option 2: Public Transportation
From Taipei Main Station, take bus 260 towards Yangmingshan Stop. From Yangmingshan Bus Terminal, take bus shuttle 108 towards Erziping, alight at Bailaka Rd. Entrance bus stop. Shuttle Bus #108 runs regularly in a loop around the park and can drop you at all the main attractions.

12. Wulai District
Wulai is a mountainous district south of New Taipei City. It's known for its hot springs and pools by the Nanshi River. Things to do here would include soaking in their public hot springs by Nanshi River or private hot springs, eating local delicacies, and visiting Wulai Waterfall.

How to get to Wulai from Taipei?
From Xindian Station, take the bus 849 (towards Wulai Terminal Station) and alight at the Tourism Bridge. The journey will take you 40 minutes, and cost about NT$15. You can also take a taxi from Xindian Station which would take about 30 mins for NT$ 600 one-way.

13. Chang Kai-Shek Memorial Hall
The Chang Kai-Shek Memorial Hall is another popular tourist attraction in Taiwan. Built in 1976, this memorial hall was built in memory of Chiang Kai-shek, the first president of the Republic of China. Take a close look at this Chinese-style architecture and just walk around the park outside of it. It has a really pretty garden and is a nice escape from the hustle of the city. Subsequently, you can visit the exhibition hall on the ground floor that will tell you about Chiang Kai-Shek's life stories. Admission to this attraction is free.

There are also half-day Taipei City Tours which include guided visits to Chang Kai-Shek Memorial Hall, the Presidential Office, Martyrs' Shrine, National Palace Museum, The Grand Hotel and Xingtian Temple.

As you can see, it was under construction when I visited in 2015…

14. Visit the Taipei Zoo
I feel as though visiting Taipei Zoo has been very underrated. The Taipei Zoo is the largest in SE Asia and it is very well-maintained with animals not confined to cages. The best part? The entrance fee is only NT $60 for an adult ticket. It's a great price considering that you'd get to see almost all the animals that you can find in other Zoos. They have souvenir shops at every section of the Zoo selling the cutest toys as well. Its so so worth the visit, and I highly recommend you reserving at least half a day for it while you're in Taipei.

How to get there: Alight at Taipei Zoo Station. It's a 4-minute walk from the main entrance.
Entrance Fee: NT $60 for adults; NT$30 for students; Free for children under 6 years old

15. Drinks lots of Bubble Tea!
You HAVE TO drink bubble tea in the land of bubble tea! There are so many choices in Taiwan to get your bubble tea fix from it can get hard to choose. Honestly, you can just stop at any stall along the way and order a cup, its more or less bound to be pretty good. Here is a list of the brands you can hunt for while in Taipei:
Chun Shui Tang
50 Lan
Coco
Yi Fang Tea
WangTea Egg
ShareTea
TP Tea

16. Photo-Session at Graffiti Lane
While you are shopping around Ximending, stop by the Graffiti Lane which is an open-air art gallery of legal street art! The whole area is lined with different designs of graffiti walls, so get ready to snap some photos for the gram!
Address: No. 19, Kangding Road, Wanhua District, Taipei City, Taiwan 108
Entrance: Free

Recommended 6 Days Taipei Itinerary
I have complied a comprehensive 6 Days Taipei Itinerary with this list of 16 things to do in Taipei. You can find it in my other article – Taipei Itinerary – A Comprehensive Guide to Spending 6 Days in Taipei – for a guide on where to visit for each day to maximise your time fully.

Where to stay in Taipei?
Staying in the heart of Taipei where all the metro lines cross one another is the most convenient location to stay at in Taipei. This includes Zhongzheng District, Wanhua District (Ximending), Datong District and Zhongshan District. But most importantly, stay near to a metro station.

Here is a list of affordable but good accommodation choices:

For Zhengzheng District, consider staying at iTaipei Service Apartment or Cosmos Hotel Taipei – both located right outside Taipei Main Station.

For Wanhua District, consider staying at Hotel Midtown Richardson, Taipei Himho Hotel or Walker Hotel Ximen – all located right outside Ximen Station.

When is the Best Time to Visit Taipei?
Taipei experiences mild changes to it's climate all year round. Cooler temperatures (15 – 25ºC) can be expected during Spring (March – May) and Autumn (September – November) which will make walking outside more comfortable. Summer (June – August) is really hot, so wear light clothing is you're visiting during this period. However, avoid July – September as this is their typhoon season.

What is the Currency used in Taipei?
The currency used in Taiwan is the New Taiwan Dollar (TWD; NT$).


Other related articles for Taiwan:
– Taipei Itinerary – A Comprehensive Guide to Spending 6 Days in Taipei
– Exploring Yehliu Geopark | One Day Travel Guide from Taipei, Taiwan
Planning a trip to China as well? See related posts here:
– China Itinerary | How to get the best out of China in 10 Days
– Important Travel Tips for Zhangjiajie National Forest Park
– Important Travel Tips for Visiting Mount Huashan
– Exploring Tianmen Mountain : A Comprehensive Travel Guide
You May Also Like