Exploring Tianmen Mountain in Zhangjiajie: A Comprehensive Travel Guide
May 3, 2020
At the heart of Zhangjiajie city in China lies Tianmen Mountain National Park. Here, you can find the cable car station leading to one of the most scenic spots in the country. This article is a comprehensive travel guide on how to best explore Tianmen Mountain (天门山).

The Tianmen Mountain Adventure (天门山)
Tianmen Mountain portrays a gorgeous view of the city and its geological formation with its vertical cliffs, heaven's door, 99 bends and a glass skywalk. It is easily one of China's most unique mountains and a must to visit when in Zhangjiajie. It takes each visitor between 3-5 hours to walk a complete round and engage in all the activities on Tianmen Mountain. At the same time, you will overlook a continuous panoramic scenic view throughout.

How to get to Tianmen Mountain?
From Zhangjiajie City:
As mentioned, Tianmen Mountain sits just outside the city of Zhangjiajie. The cable car station or bus transportation up the mountain is located in Zhangjiajie city. The address on google maps will be as follows:
Address: Dayong Rd, Yongding District, Zhangjiajie, Hunan, China
From Wulingyuan:
Head to Wulingyuan Bus Station (located to the west side of Guihua Road, 桂花路). Take the bus heading to Zhangjiajie (Railway) Bus Station. The bus comes every 10 minutes and will cost you 20 yuan. You can pay with cash/WeChat/Alipay onboard. The first bus departs at 6am daily and the journey will take about 1 hour.
If you're coming from other places, you can use China Bus Guide to plan your trip. Google Maps do not have these shuttle routes.

Ticket fees and Operating hours to Tianmen Mountain
Opening Hours:
– Mar 1 to Nov 30: 6.30am – 6.00pm
– Dec 1 to Feb 29: 8.00am – 5.30pm
Last entry is 30 minutes before the stated closing time.
Although it says that the Cable Car station opens at 8am, be there even earlier. We had reached at 8am and there were already long queues to buy tickets. All the Cable Car tickets were also sold out when it was our turn to purchase at the ticket office.

It is therefore, highly recommended that you pre-book your tickets online to secure your Cable Car ride. It is also slightly cheaper booking online as compared to purchasing it at the ticket office entrance. There are 3 ticket options that you can get to tour the mountain:
Entrance Fee: 258 yuan

Option A: Cable Car UP + Bus DOWN (most popular)
Option B: Bus UP + Cable Car DOWN
Option C: Bus UP + Bus DOWN
Do remember to bring along a form of identification (i.e. passport) when purchasing your tickets. Unfortunately for us, we had to go with Option C (as mentioned, all the cable car tickets were sold out). Option A is the most popular because people would rather walk down the 999 steps to heaven's door than to walk up it. However, if you want to avoid the crowds, you may want to opt with Option B so that you can avoid spending hours queuing for the ride to go up.

How to Tour Tianmen Mountain? Routes That you can Take
As mentioned, there are 3 ticket options that you can choose from. This will determine the sequence of activities you will engage in on Tianmen Mountain.
Option A: Cable Car UP + Bus DOWN
After taking the cable car up to the Upper Station, for step 3, you can choose to walk from either West to East or vice versa, depending on your preference. As most people walk from West to East, you can avoid the crowds by going the other direction. Head back down by taking the upper escalator. You can choose to either walk down the heavenly ladder or take the lower escalator down. Lastly, take the shuttle bus down from the parking lot of Tianmen Cave.



Option B: Bus UP + Cable Car DOWN
After taking the bus up to the Parking Lot of Tianmen Cave, you can choose to either walk up the heavenly ladder or take the lower escalator up. Next, take the upper escalator up to reach the top of Tianmen Mountain. From here, you can choose to walk either from East to West or vice versa. Lastly, head to the Upper Station Cable Way to go back town.



Option C: Bus UP + Bus DOWN
Going up is similar to Option B. However, you will have to go back down the same why that you came up. Hence, head back to the upper escalator to go down once you've completed sightseeing the top of Tianmen Mountain.

Activities to do on Tianmen Mountain

1.Tianmen Mountain Cableway
It holds the record of having the "longest passenger cableway of high mountains in the world", with ninety-eight cars and a total length of over seven-thousand meters. The local gradient from the middle station to the upper station is steep as thirty-seven degrees. It takes half an hour to travel from the lower station of the Cable way of Zhangjiajie city to the top of Tianmen Mountain.

2. Plank Road in Ghost Valley
The plank road in the Ghost Valley is eight-hundred meters in length and suspended more than a thousand meters above sea level adjacent to Guigu Cave. Walking along the vertical cliffs of the mountain is a truly thrilling and unique experience.

3. Tianmen Cave (Heaven's Door)
After sitting on the bus up the 99 bending road, we arrived at Heaven's door to climb the heavenly ladder which consists of 999 steps. It was exhausting but you'll be rewarded with incredible views from the top. Tianmen Cave is a mountain-penetrating karst cave formed naturally as a result of water erosion. In the year 263, the back of the cave collapsed, forming the hole, resembling a gate to heaven.

4. The 99 Bending Road
The 99 bending road was built for visitors to use. It takes visitors from the mountain foot to the top of the mountain and Tianmen Cave. From the cable car, you can see beautiful arial views of the 99 bending road, it resembles an image of a dragon ascending to Tianmen Cave.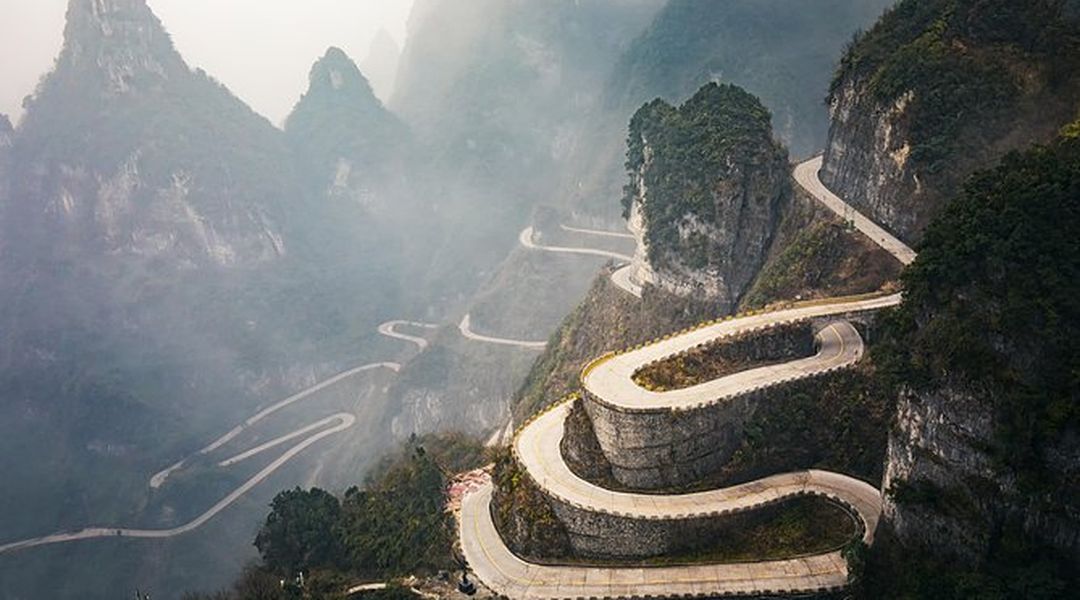 5. The Glass Walkway
There's a Glass Walkway you can venture onto at Tianmen mountain. It's just a 2 minutes walk along the side of the cliff. You will have to purchase an extra ticket at CNY 5 to walk on the walkway. A cover will be provided to visitors to wrap around their shoes, this is to reduce scratches on the glass.

6. Forest Sightseeing Cable Car
Tianmen Mountain Forest Sightseeing Cable Car is different from Tianmen Mountain Cable way. This is another cable car constructed on the top of Tianmen Mountain that links between Tianmen Mountain Temple and the Yunmeng Summit. Visitors will need to purchase an extra additinal ticket (CNY 30) to take the cable car.

Where to stay in Zhangjiajie City?
Most people travelling to Zhangjiajie would visit the following main attractions – Tianmen Mountain, Zhangjiajie National Forest Park and the Zhangjiajie Glass Bridge. Hence, There are three main locations you can choose to stay at while in Zhangjiejie depending on your itinerary:
1. Wulingyuan (Near Zhangjiajie National Forest Park Entrance)
If your itinerary is to spend more than 2 days in Zhangjiajie National Forest Park, then you should stay at Wulingyuan area. Recommended places to stay at would be – One Tea One Guest House, Zhangjiajie Xi Pan Qian Mo Inn and Qing Man Hotel. All of these accommodations are clean, extremely good priced and are walking distance to the main Bus Station.
2. Zhangjiajie Downtown Area
Otherwise, its a good option to stay at Zhangjiajie Downtown Area itself as there are buses that run to the National Forest Park and Glass Bridge anyway. Plus, it is near the airport. The place we stayed at was called Xiao Wu Ding Inn. Located just 10-15 minutes walk from the Main Bus Station and and less than 5 minutes from Tianmen Lower Cable Station.
3. Yangjiajie Entrance Area
If you're looking for a peaceful stay away from the hustle and bustle and with fantastic views from your room, then you can consider staying at Yangjiajie Entrance Area. Recommended places to stay include – Whispering Mountains Boutique Hotel and Tongfu Inn.


When is the best time to visit Tianmen Mountain?
The best time to visit Zhangjiajie would be during Spring Season (April – May) and Authum (October – Mid-November). April and October are the two best months to visit Zhangjiajie. The weather in these months of Zhangjiajie is pleasant and comfortable.

Avoid going to Zhangjiajie or any parts of China during any of their public holidays. This is especially during their Golden Week which runs from 1-7 October every year.

Recommended Itineraries for Zhangjiajie & China
It took us about 4 hours to complete the entire route on Tianmen Mountain. By the time we were done, it was about 12pm and we headed back to Zhangjiajie National Forest Park to utilise our time fully there. Read my 10 Days China Itinerary to see my recommended itinerary for touring Zhangjiajie.

Other related articles
– Important Travel Tips for Zhangjiajie National Forest Park
– Important Travel Tips for Visiting Mount Huashan
You May Also Like
April 26, 2020