Important Travel Tips for Zhangjiajie National Forest Park
April 22, 2020
Zhangjiajie National Forest Park is well known for its unique geological formations that have a striking resemblance to the movie 'Avatar'.

About Zhangjiajie National Forest Park
The park has been listed as a UNESCO World Heritage Site in 1992. It has more than 3000 quartzite sandstone pillars and summits that was formed due to millions of years of water erosion, a distinctive landscape to be found no where else in the world.


How to get from Downtown Zhangjiajie City Center To Zhangjiajie National Forest Park
At Zhangjiajie City Bus Station, once you've passed the gantry (bag check area), turn left and walk 150m along the path. You'd reach an open-air carpark area with mini-buses lined up. Hop on the bus that has the label 'Zhangjiajie National Forest Park' (you should double check with the driver in case). The bus will stop directly outside of the ticketing entrance to the park – everyone will get off here so you don't have to worry about missing your stop.
Duration: 40 minutes
Price: 12 yuan (the driver will collect on the bus)

Take the same route when travelling back to the city centre. Be sure to get on the last bus that leaves at 6pm (check with your driver before getting off the bus).

How to Travel Zhangjiajie National Forest Park Independently
The National Forest Park is very big and it will be better that you give yourself a at least 2 days to be able to sightsee the main attractions of the park. Due to it's size, it is very possible to lose your way around and you will need to ask about for directions.
Should you book a tour for Zhangjiajie National Forest Park?
It may be a more fuss-free option that you book a tour if you're unable to speak Chinese just for your own comfort and convenience. However, it is still very possible to travel there on your own as long as there is planning beforehand and I will teach you exactly how to go about doing it. You can begin by saving a picture of the map below for reference. Otherwise, you can also buy a physical copy of it from their staff for 10 yuan.
The top-rated scenic places in the park are Tianzi Mountain, Yuanjiajie and Golden Whip Stream. In general, hiking is not challenging in the park and it's easy to get to the main attractions by cable cars, elevators and shuttle buses.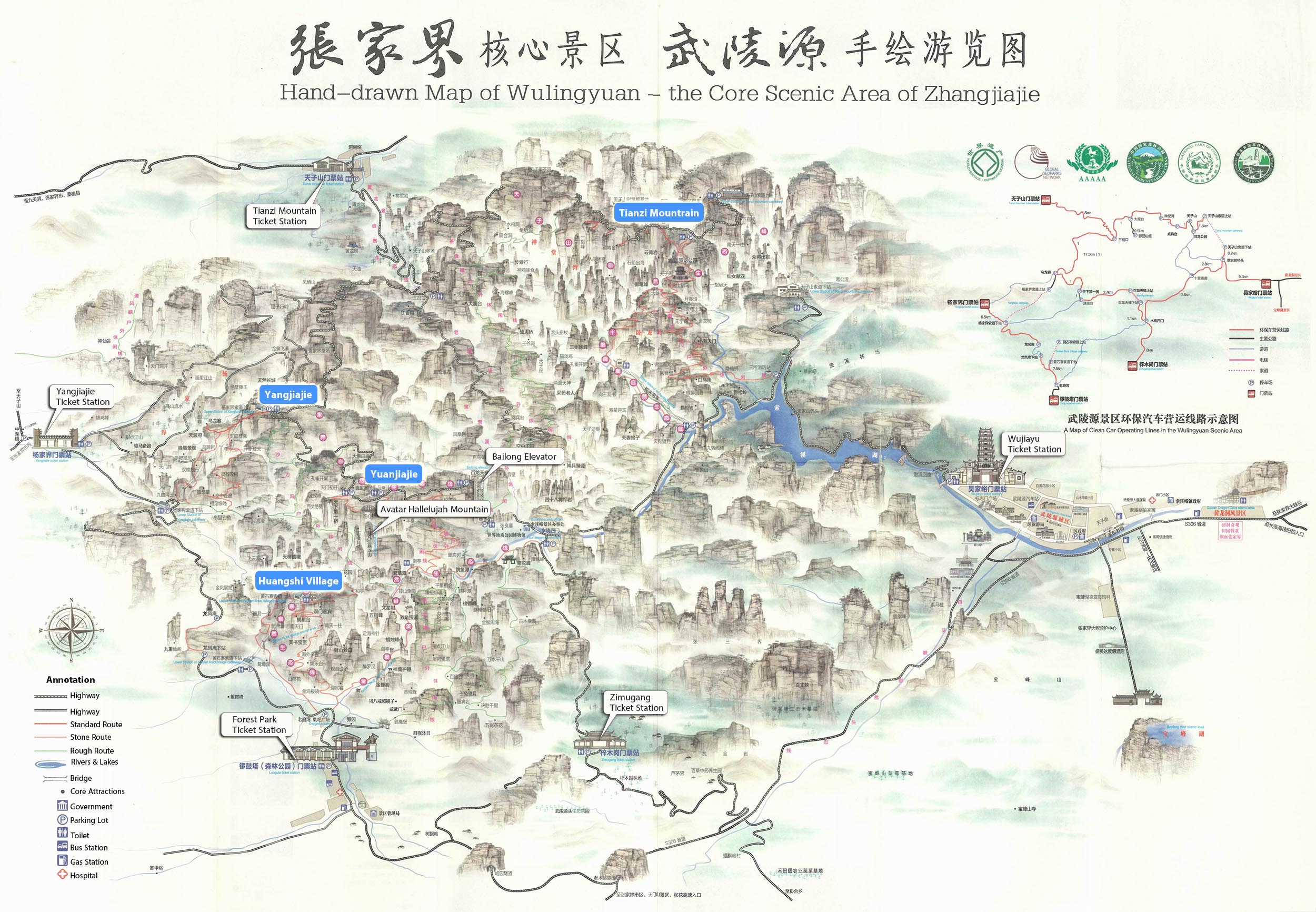 Entrance Fee to Zhangjiajie National Forest Park: 248 yuan (valid for 3 days)
Additional Fees:
Yellow Stong Village Cable Car: 65 yuan for 1-way
Tianzi Mountain Cable Car: 67 yuan for 1-way
Bailong Elevator: 72 yuan for 1-way
Yangjiajie Cabe Car: 79 yuan for 1-way
My Recommended Zhangjiajie National Forest Park Route:
Route for Day 1: Tianzi Mountain > Yuanjiajie (By Cable Car)
Route for Day 2: Golden Whip Stream
Day 1 (Getting from the Entrance to Yuanjiajie & Tianzi Mountain)
Option 1: By Cable Car (see map below for illustration)
Our bus from the city center dropped us off at the Forest Park Ticket Station (bottom-left of map). After buying our tickets we walked straight into the park entrance along the road filled with trees till we reached an open area. You will see a bus parking compound on your left and signs to golden whip stream on your right.

Turn towards your left to take the shuttle bus up the road. Ask the staff for directions to Tianzi Mountain to ensure that you get on the right bus. The bus will drive you up the road to reach another bus stop where you'll alight and change buses. At the next stop, you will alight at a lush forest area whereby you'll have to walk up wooden staircases to get to another bus stop. Get on another bus at the top of the wooden staircases which will bring you to the lower cable station at Yuanjiajie. After you've reached the upper cable station, look for signs to take a bus to Tianzi Mountain (see map below for illustration).
After exploring the main area of Tianzi Mountain, you can either –
#1: Take the shuttle bus back to Yuanjiajie area
#2: Walk along the road heading back to Yuanjiajie area (recommended! – find hidden scenic spots!)
Finding Hidden Scenic Spots in Zhangjiajie National Forest Park:
Along this road between Tianzi Mountain and Yuanjiajie, there are many hiking trails that will lead you to amazing view points. As you walk towards Yuanjiajie area from Tianzi Mountain, there will be trails on your left side which you can venture into. Because most people would prefer to take the bus than to walk, there are hardly any crowds at these view points. So if you're looking for less crowded area to take photos, this is where you'll have to be.
Going back down from Yuanjiajie:
Upon reaching back to Yuanjiajie, you can choose to either take the cable car back down or by Bailong Elevator. 
We chose to visit Tianzi Mountain first before going to Yuanjiajie. This is because most people usually visit Yuanjiajie first in the morning before going to Tianzi Mountain. Hence, this is a route you can take to avoid some crowds.
Option 2: By Bailong Elevator
We decided NOT to take Bailong Elevator because waiting queues can go up to 2 hours. In addition, the time spent on the elevator is only about one-minute long. What more is that there is a chance you'd be squeezed in the middle of the elevator and making it impossible get a view through its glass panels.

However, if you really want to experience going UP in the tallest elevator in the world, then you have to arrive before 7am and descent before 4pm to avoid the queues.

Route to go UP Bailong Elevator: Start at Zimugang Ticket Station > Shuttle Bus to bottom of Bailong Elevator
DO NOT begin at National Park Forest Station (bottom-left of map) if you want to go UP Bailong Elevator. The reason being is that there are no nearby bus stops to take you to the bottom of Bailong Elevator from here. You have to take a taxi to Zimugang Ticket Station and begin off from there.

Day 2 (Golden Whip Stream):
The Golden Whip Stream can be reached via Zhangjiajie National Forest Park Ticket Station, the South Gate (bottom-left of map). It's just a 10-minute walk from the gate and you will not need to take any buses.

The steam has a quiet and tranquil ambience. It is perfect for a slow and relaxing walk to finish off your day.

Suggested Zhangjiajie Itinerary
Give yourself a minimum of 2 full days to explore Zhangjiajie National Forest Park and 1 day to explore Tianmen Mountain. You can also visit the famous Zhangjiajie suspension glass bridge that is located a 40 minutes drive from Wulingyuan District. You can complete this in the afternoon after visiting Tianmen Mountain. More information on this can be read on my 10 Days Travel Itinerary to China.

Weather | Best Time to Visit Zhangjiajie National Forest Park
The best time to visit Zhangjiajie National Forest Park is from April to May or from September to November. This is when the weather is cool and comfortable. Avoid travelling (or any parts of China) during public holidays such as the Labor Day Holiday (3 days around 1st May) and National Day Holiday (1st – 7th October, also known as their Golden Week).
The park is busy all year round with the least crowd during the winter season (December to February)
Remember to check the weather report 1-2 days in advance before going to the park. You would not want to be there on a day that is foggy and rainy as this will prevent you from being able to see the view at the top.

Planning a Trip of China? See related posts here:
– Travel Itinerary | How to get the best out of China in 10 Days
– Important Travel Tips for Visiting Mount Huashan
– Exploring Tianmen Mountain in Zhangjiajie: A Comprehensive Travel Guide
You May Also Like
April 22, 2020
April 22, 2020